Environment
This Might Be The Cutest Robot Ever: Hear How The 'SlothBot' Is Helping To Fight Climate Change
The fact that it's slow, like a sloth, brings a special advantage to this device. And it's cool enough that you'll want to find out more.
08/25/2020, 06:18AM EST
---
If we learned anything from the childhood fable, "The Tortoise and the Hare," it's that sometimes it pays to be slow.
At least, that's the thought process behind the creation of the SlothBot, an animatronic robot that monitors its natural environment.
The idea for the 'slow-bot' came from Magnus Egerstedt, a robotics professor at Georgia Tech, who became interested in sloths after a trip to Costa Rica.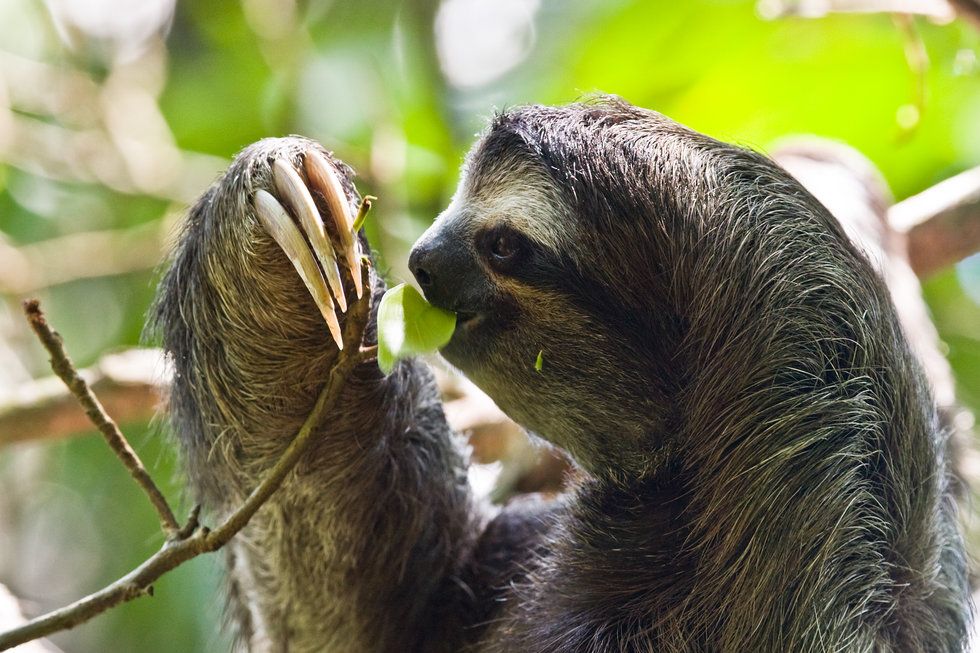 Sloths were the inspiration for a slow-moving, hyper energy efficient robot that studies the effects of climate change. Sloth - Wikipedia
Egerstedt observed the lethargic animals who spend roughly fifteen hours a day sleeping. During the few hours the animals are awake, they travel about half the length of a football field. Still they manage to survive and thrive!

"I could not understand how these slow, tasty animals that are just sitting there waiting to be eaten by a jaguar could survive," Egerstedt told CNN. "So, I started reading about sloths and I got really excited about embracing slowness in robotics."
video c/o Georgia Tech
The SlothBot is equipped with a variety of sensors that record data on air quality, humidity, carbon dioxide levels and other environmental factors. And because it's small and slow, the bot is extremely energy efficient and can stay suspended in the trees for long periods of time.
"Step one to really doing something about the climate threat that we're facing is really understanding fundamentally what's going on," Egerstedt said.
The SlothBot, which is currently tracking conditions at the Atlanta Botanical Garden, is equipped to do just that. The bot travels across a cable suspended between two trees and uses solar panels for power. It can stay in the same spot and take measurements for months, even years, if needed - something that's incredibly difficult for humans to do.
Conservationists have partnered with the robotics team to come up with the SlothBot. @technationews
While there's currently only one SlothBot in operation, Egerstedt hopes to someday have the robots placed under as many canopies as possible.

"I would like to see entire herds of SlothBots up in the forests," he said.
The SlothBot moves between two trees and is powered by solar panels. Georgia Tech
Egerstedt also has plans to add additional sensors to the lethargic robots to measure the population and impact of pollinators, like bees and butterflies, in an environment.

"In particular, we're interested in tracking and counting pollinators, since they're a good indication of whether an ecosystem is healthy or not," he said. "The sky's the limit for what we can potentially measure."
Robotics professor Magnus Egerstedt came up with the idea for the SlothBot after studying sloths' behavioral patterns.Georgia Tech
While it may not be the most exciting robot to watch, the SlothBot could prove to have the most important function of all – coming up with a solution to the climate crisis. It just might take a while to get there.