Animals
This Might Be The Cutest Animal Rescue Mission Ever
A couple lost everything they owned after Hurricane Hanna hit their town. But that didn't stop them from getting their 'babies' to safety.
07/31/2020, 04:30PM EST
---
With a global pandemic going on it's easy to forget that there are other catastrophic events occurring around the world, including hurricanes.
Tropical Storm Hanna, first of the 2020 Atlantic season, made its way to land last weekend, hitting parts of southern Texas and northeastern Mexico and causing mass flooding in some places.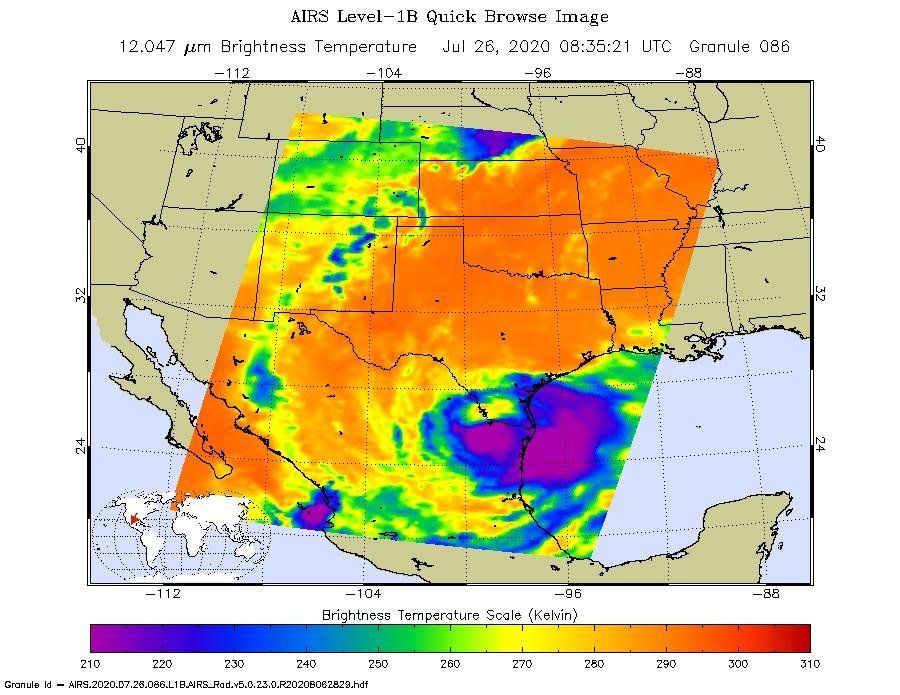 Tropical storm Hanna made landfall over the weekend, causing strong winds and heavy rainfall in parts of Texas and Mexico. Space Images | AIRS Captures Tropical Storm Hanna
While people can lose everything in a tropical storm, one couple recovered some very important belongings when they were forced to flee their home in Reynosa, a city in the Mexican state of Tamaulipas.

Betty Escandón shared a video of her parents pushing a basket full of ten puppies down a flooded street in their neighborhood during the storm.
Escandón said her parents' property was destroyed when heavy rainfall flooded their home, but luckily they managed to "get their babies out."
"Unfortunately, they lost everything, the whole kitchen fell apart and my dad almost fell on his head," Escandón wrote in the post. "But the truth [is they] didn't care the moment they saw the flood they ran to save all the babies."

The video quickly went viral and prompted comments and likes from people all over the world.
"They are people with huge hearts," one person wrote.
"God bless that family, they are angels on earth," another user commented. "Thank you for loving animals so much, God will reward you. 👏🏼"
Others reached out to see how they could help with the family's mission of adopting and caring for abandoned pets.
Sadly, Escandón's family home was ruined during the flood. Betty Vaquera Escandón/Facebook
While Escandón's folks are overwhelmed with all of the support and kind words they've gotten after the storm, they hope their story teaches others about the responsibilities that come along with owning a pet (or in their case, lots of pets!).

"Thanks again for all your support," Escandón wrote in a follow-up post. "My parents are very excited and happy that their video went [viral] and I hope it helps to raise awareness that a puppy or kitten are a great RESPONSIBILITY!!!!! They eat, get sick and need care and protection."
When a few people reached out and asked if they could buy one of the dogs, Escadón explained that they were not for sale, and that "they are part of the family."
Escondón made it clear that the pups weren't for sale, and that they're considered as "part of the family." Betty Vaquera Escandón/Facebook
What a sweet story! We hope that the family is able to rebuild and recover some of their possessions that were lost during the storm.