Food
"Take Some, Leave Some" How Neighbors Are Coming Together To Fight Food Insecurity In Their City
The project was started to bring people food where they're at, when they need it. Now the trend is catching on all over the city.
07/10/2020, 02:23PM EST
---
When you walk through the streets of New York City, there's no lack of interesting things to look at. Colorful graffiti, buildings that seem to stretch up for miles and people of every different background imaginable, all part of a sprawling urban landscape that's unlike anywhere else in the world.
These days, you might notice another unique sight in neighborhoods all over the city. Free-food refrigerators, sometimes called "friendly fridges," have been popping up on sidewalks and street corners outside of apartment buildings, cafés and markets.
The fridges act as community food pantries and are stocked with fresh produce, bulk groceries and ready-made meals. Anyone is welcome to visit the fridges and take what they need, when they need it.
See how folks in other cities have "blessed" their neighbors with free food pantries: "Blessing Boxes" Stocking Up On Hope And Help
The fridges started appearing soon after the coronavirus pandemic started, when stay-at-home orders led to many residents being out of work and thousands were getting sick with the virus.
Residents keep the free fridges clean and stocked.Universe City/Facebook
While the city with a population of over 1.6 million has been dealing with food insecurity issues for decades, the pandemic has made things much worse.

"We're dealing with an unprecedented crisis," New York City's Mayor Bill de Blasio said during a May press conference. "Before the coronavirus, we thought somewhere around a million people were food insecure and needed food. Now we think that number is two million or more."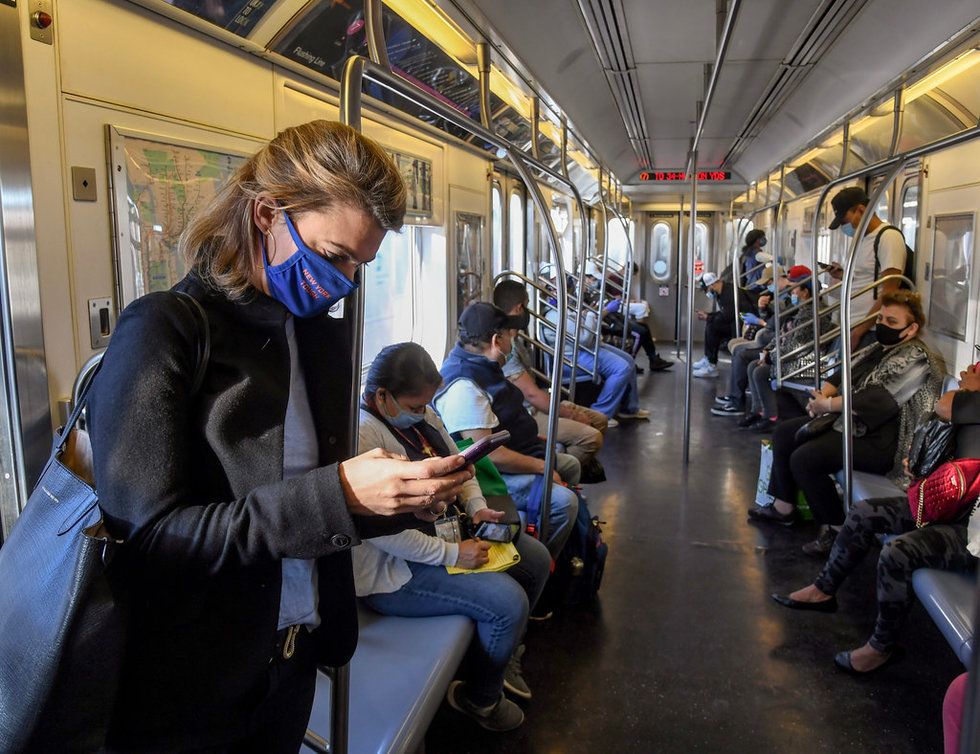 Over 400,000 cases of coronavirus have been confirmed in New York City. live.staticflickr.com
The grassroots organization "A New World In Our Hearts" helped organize the project and has connected hundreds of volunteers with opportunities to install fridges in their communities.

Everyone from single mothers, homeless people, postal workers and senior citizens have taken items from the food pantries and neighbors and organizers have been making sure the fridges stay stocked at all times.

These moms started a food pantry out of an AirBnB: Moms Doing What Moms Do Start "Pop Up" Pantry To Help Families In Need
"Our role is to help people get set up, then we're out," Thaddeus Umpster, a volunteer with In Our Hearts, told GMA. "Once a community takes over and is managing the fridge themselves, we don't need to be involved. We'll support where we're needed, but we're all focused on our own neighborhoods."
Restaurants and farm co-ops help keep the fridges stocked with fresh produce, bread and ready-made meals. Universe City/Facebook
The fridges are hard to miss, as most are decorated with bright, colorful art and feature sayings like, "Take Some, Leave Some," and "The Community Takes Care of Itself." Volunteers clean and sanitize the fridges daily, and local farm co-ops, cafés and restaurants help with donations to keep them stocked.

Residents say the free food fridges have helped to foster a sense of community among neighbors who have never met before.
"I raised kids here, but never have we come together on this scale before," Bronx resident Selma Raven said. "We have people from the synagogues, churches, local pantries, running groups. It's really connecting people, even with social distancing."

What an inspiring story about people coming together to take care of each other during a time of need. We hope to see "friendly fridges" popping up in more cities soon!