Good Neighbors
Kindness In The Drive-Thru: Worker Saves A Man's Life After He Passes Out Behind The Wheel
She's being called a hero for rushing to the man's aid - she says she was just doing "what everyone would've done."
08/24/2020, 01:41PM EST
---
Sonja Nixon Frazier wasn't supposed to be at work the day a man fell unconscious in the drive-thru line at the Taco Bell where she's employed. She typically works the night shift, but she came in a few hours early that day to help out.
Frazier noticed something was wrong when they weren't receiving any orders, despite the steady stream of cars in the restaurant's drive-thru lane.
"We were seeing cars and hearing the bell go off, but nobody was coming through the drive-thru," Frazier, who's an assistant manager at the Madison Street Taco Bell in Clarksville, TN, told Clarksville Now. "One of my managers looked on the camera and saw a car was parked the wrong way. It looked like it'd rolled into the drive-thru line and was blocking it."
When Jonathan, one of Frazier's co-workers, went to see what was going on, he noticed a man slumped over the driver seat of a van that was slowly rolling through the drive-thru lane.

"When I got to the back door and saw it, Jonathan yelled, 'He's passed out!' and I yelled to another employee to call the ambulance," Frazier said. "We opened the door, and he was blue. I told Jonathan to park the car, and we both pulled him out and put him on the ground."
Sonja Nixon (pictured here, right, with her children) has been an employee with Taco Bell for 14 years. Sonja Nixon/Facebook
After they got the unconscious man on the ground, Frazier instructed Jonathan to help her roll him onto his left side. The man's fingers had turned blue, and once the 911 dispatcher was on the phone, they asked if anyone knew CPR.

Frazier, who has been a Taco Bell employee for 14 years, used to be employed as a home healthcare worker and had taken several first aid courses for her certification.
Nixon didn't hesitate to rush to the man's aid, despite the threat of catching the coronavirus. Screenshot: WSMV-TV
Even with the risk of catching the coronavirus, Frazier immediately started administering CPR and mouth-to-mouth resuscitation. She continued until the paramedics arrived.

"It was kind of crazy. I'm extremely scared of COVID-19, but I would not leave him," Frazier said. "He was trying to get something up. It sounded like a gurgle. I just kept doing the compressions until they got here. They didn't immediately take over, so I guess I was doing it right."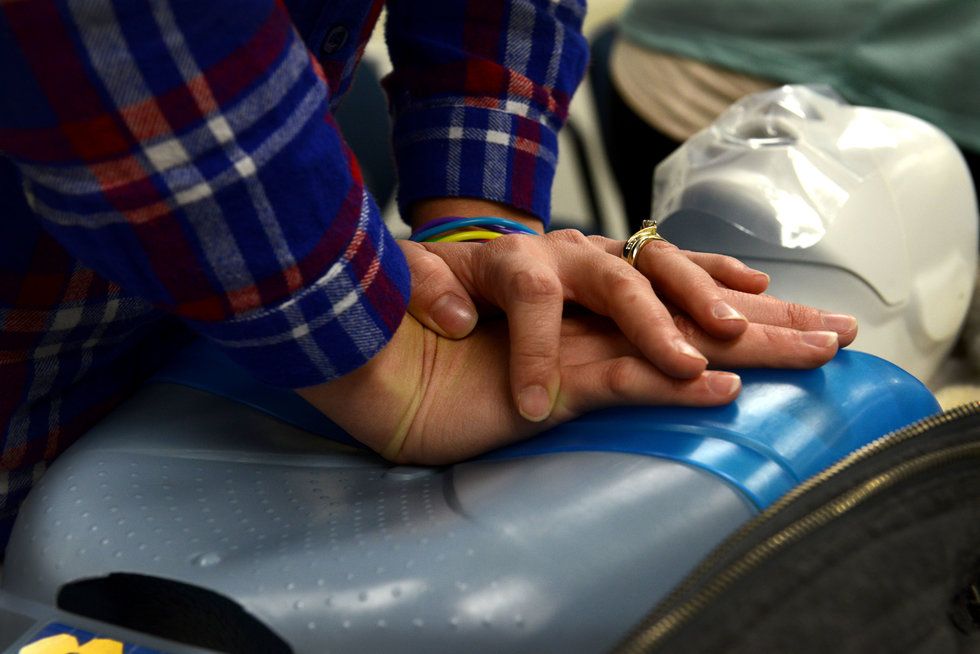 Nixon says she hopes her story will inspire others to learn CPR so they can be prepared in a life-threatening emergency. Google
After the incident, Frazier reached out to the man on Facebook to make sure he was okay. The man responded and wanted to thank her in person for what she did to save his life, but she said that finding out he was alive was "repayment enough."

Frazier is being hailed as a hero in her community and was recently featured in a CNN "Heroes Salutes" story.
Nixon said she "cried like a baby" and smoked a cigarette after the incident to process what happened. Screenshot: WSMV-TV
"I feel blessed," Frazier said. "I feel I did what everyone would've done. I didn't care about his race, politics, none of that. It never crossed my mind. It was his life and he needed help."